Somerset's Covid-19 Update
Friday 25 March 2022
Welcome to the latest edition of the weekly Somerset Covid-19 update for key stakeholders and subscribers. This update is produced on behalf of the Somerset County Council Public Health Team and is designed to provide a weekly update on the current Covid-19 situation in Somerset.


Please be aware you are receiving this email because you have previously subscribed to Covid-19 updates from SCC or were a part of the Stakeholder mailing list. If you no longer wish to receive these mails you can use the 'unsubscribe' link at the bottom of the update.
Case numbers remain very high and have increased again this week so we should all continue to do all we can to help prevent the transmission of Covid-19, especially to the most vulnerable in our communities. This week marked the second anniversary of the first National lock-down and we thank you all for everything you have done to protect Somerset from the spread of Covid-19. However, with the case numbers so high, it is clear Covid-19 is still with us.
Very soon we will be at stage in the pandemic when there are no legal restrictions so it will be up to us all to make the right decisions to keep ourselves and those around us safe. To do so, we still advise basic infection control and voluntary protection measures to stay healthy this Spring and to help slow the transmission of Covid-19 and many other illnesses. These include keeping occupied spaces well ventilated, regularly washing your hands and wearing a face covering in crowded or indoor spaces.
The Covid-19 vaccination remains the best form of defence we have against the virus. Remember – it is never too late to book your vaccination so anyone who has not already booked their jab can do so quickly and easily at Covid-19 vaccinations in Somerset - Somerset CCG. The Spring Booster is now available for those who are eligible.
'Remember, everyone can catch it, anyone can spread it.'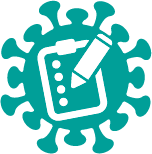 The main items featured in this week's update are:
Schools, Workplace and Care settings
Vaccinations Update
Testing Update
Coping with anxiety following the lifting of restrictions
This Week's Covid Catch-up Film
Resources and further information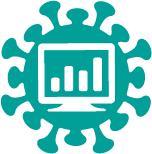 Somerset Covid Cases
In the week ending 20 March, approximately 111,533 tests were carried out across the county. There were 7,608 new confirmed cases identified by these tests. The rates of Covid-19 in Somerset remain very high and have almost doubled in the last reporting week to 1,353.28 per 100,000. This is above the South-West average and much higher than the national average.


Hospitalisation data for Somerset has increased by a significant amount over the last week to around 180 Covid-19 in-patients in Somerset hospitals. The majority of these patients are not ill with Covid-19 but have been detected through routine screening
Please note the Public Dashboard is being reviewed following changes to the national policy. In the week to 13 March, the Office for National Statistics shows that around one in every 20 people have coronavirus, and in Somerset, we know our case rates are higher than this.
Schools & Early Years
Behavioural Science Study – Surveys Now Live: The Behavioural Science Unit have developed two surveys:

To find out how parents feel about making the decision whether to send their child to school if they are unwell with certain symptoms.
For education staff to explore how they feel communicating these messages to parents.
The Behavioural Science Unit and Public Health team plan to use views collected to help support schools and make sure we are providing the most useful advice to help with the current pressures. All responses will be anonymous.
Both surveys have been shared with schools via the weekly Schools' Bulletin.


Somerset Context: Given the ongoing evidence of spread of infection in pupils and staff, and the impact on staffing and attendance across South-West educational settings, we continue to advise:

All schools review their outbreak management plans (sometimes referred to as contingency plans) within the national Education Contingency Framework
Schools implement the baseline protective measures described in the Education Contingency Framework. Baseline measures include for example, good hygiene for everyone, maintain appropriate cleaning regimes, keep occupied spaces well ventilated, and follow public health advice on testing and managing confirmed cases of Covid-19.
Covid-19 continues to circulate widely in Somerset and across the South-West, and with the prevalence of the highly transmissible Omicron variant, we continue to see very high case rates in our communities. Most children and young people who are infected with Omicron will have mild symptoms or are asymptomatic. Hospitalisation for severe Covid-19 illness remains highest in older age groups and the unvaccinated. The impact of high community rates is presenting business continuity challenges in providing onsite education in some settings.


Data shows that many schools are currently experiencing partial closure as a result of operational challenges, which reflects the high transmission rates in the community. Whilst this is not translating into severe disease, we are aware of the enormous operational difficulty due to staffing pressures currently being felt. The SCC Public Health team know this is a difficult time with high levels of staff and pupil sickness and remain aware of the exceptional work schools continue to do, to maintain face-to-face education.


Workplaces:
Lots of businesses and public services are struggling at present with high levels of Covid-19 absence. Remember, Omicron is highly transmissible, but is best controlled in the same way as previous variants – ventilation, distancing, face coverings and good hand cleanliness and keeping people who have symptoms away from the workplace.


You are no longer legally required to self-isolate if you test positive for Covid-19. People who test positive for Covid-19 should continue to stay at home and avoid contact with other people.


The general duties under the Health and Safety at Work etc Act continue to apply, it being a legal requirement to ensure the health, safety and welfare of employees and others, such as customers, as far as is reasonably practicable.
Care Settings
Along with increased Covid-19 case rates across Somerset, we have seen an increase in Covid-19 outbreaks in care settings. Despite the national removal of the legal requirement for people with Covid-19 to self-isolate, due to the higher risk nature of health and social care settings, the advice for residents and staff members working in these settings has not changed. Health and social care staff are required to follow the specific guidance for this sector and not guidance for the general population.
The key guidance documents care settings are required to follow are:
If care settings have an outbreak, staffing may be challenged and so we would ask our local communities to be supportive of those settings as they try to keep our loved ones safe and well.
It remains crucial to adhere to strict Infection Prevention and Control (IPC) measures, use of PPE, ensuring adequate ventilation, regular testing and ensuring staff, including any new personnel take up the offer of vaccination, including boosters. It is also important for visitors and essential care givers to follow good IPC measures and test prior to entering care settings to keep their loved ones free of Covid-19 and other infections.
There are bookings and walk-in clinics available NOW across Somerset.
As legally mandated restrictions are being lifted, our first lines of defence (like vaccination) become even more vital. Vaccines remain our primary mitigating measure against severe disease and illness from Covid-19 and it is because of the success of the vaccination programme that we have been able to move into the next phase of living safely with Covid-19


Over 80% of eligible residents have received two doses of the vaccination. The Vaccination Programme is working with health and community partners to identify locations for mobile vaccination pop-up clinics. By localising the offer, the programme aims to reduce barriers to access and better understand community needs.


You can also pre-book an appointment. To do this, visit www.nhs.uk/Covid-Vaccination or call 119 for an appointment. The helpline has over 200 languages available if you or someone you know requires an interpreter.


NHS staff are ready to welcome you whether it's for your first, second, or third dose.
Local walk in centres can be found here.


Spring Covid-19 vaccine for most vulnerable
Vaccination for 5 -11 year olds - not clinically at risk
The Joint Committee on Vaccination and Immunisation (JCVI) has advised a non-urgent offer of two 10 mcg doses of the Pfizer-BioNTech Covid-19 vaccine to children aged 5 to 11 years of age who are not in a clinical risk group. The NHS will prepare to extend this non-urgent offer to all children during April. We are expecting further details and national communications on this in the next week.
Information for parents and carers on Covid-19 vaccination for at risk 5 to 11 year olds: Children aged five to 11 years old who are clinically at risk from coronavirus, or who live with someone who is immunosuppressed, are now eligible for a lower, paediatric dose of the Covid-19 vaccine. All eligible children will have been contacted by their GP or local NHS inviting them to book an appointment through a local booking system at their GP practice or a nearby vaccination centre. At the moment, this group will not be able to book through the national booking system.
Please note: If a child has tested positive for Covid-19 and is not at high risk from Covid-19, they need to wait 12 weeks before they can have a Covid-19 vaccine. This starts from the date they had symptoms, or the date of the positive test if they did not have symptoms.


Free universal symptomatic and asymptomatic testing services for Covid-19 for the general public will be ceasing at the end of March, in line with Government Guidance and the move to Living with Covid.


Up until 23.59 on 31 March, you will still be able to order Home PCR tests if you have symptoms at

Get a free PCR test to check if you have coronavirus (COVID-19) - GOV.UK (

www.gov.uk

)

You may still be able to access LFT test kits online via https://www.gov.uk/order-coronavirus-rapid-lateral-flow-tests, however these are being prioritised for people at higher risk so you may have to try ordering the test kits at various times if you are not able to place an order initially.
Physical tests site closures: Physical test sites for symptomatic Covid-19 testing in Somerset will also be closing on 30 March – this will include mobile testing units (MTUs), walk-through local testing sites (LTS) and drive-through regional testing sites (RTS). A list of these sites can be found here if you wish to test up to 30 March: https://www.somerset.gov.uk/coronavirus/coronavirus-testing/


We are still awaiting national guidance regarding testing for those who work in high-risk settings and others who are considered to be vulnerable and may be eligible for free testing, and we will communicate this once this has been shared.
The Local Authority have no LFD test kits to provide to our general population.
Coping with anxiety following the lifting of restrictions
We are aware there may be a large number of people who are feeling anxious about the forthcoming lifting of all legal restrictions and the NHS are here to help. They very kindly have provided information and advice with can be found using this link:

This week Clinton discusses some top tips for keeping healthy this Spring.
Please click the image below to watch.

The Somerset Local Outbreak Management Plan outlines how we, the council, will work with the NHS Test and Trace Service, PHE, the NHS and other partners to ensure a whole system approach to preventing and managing local outbreaks. This can be found here.


Please like us on Facebook, follow us on Twitter and LinkedIn and share our posts with your networks to help us communicate these important messages.


We would really welcome your feedback on this email update, so please email any comments to the team using GHaslock@somerset.gov.uk.


Finally, please follow Trudi Grant, our Director of Public Health's Twitter account here.