Somerset Health and Wellbeing Advisory Network
Helping you to help others
Vaccination Clinics In Somerset
Sedgemoor
Bridgwater Town Hall, High St, TA6 3BL
Every Friday: 9am - 2pm - Walk in
Book a

Children only

for ages 5+: 2pm - 5pm
*check
GAJ
for specific children's (5+) clinics & times
Appointments now open on NBS.
Bridgwater Community Hospital, Bower Lane, Bridgwater, TA6 6JE
Auction / Market at Junction 24 Market Way, North Petherton TA6 6DF
Saturday 21st May: 9am - 3pm
Sydenham Pantry, Community Hub, Fairfax Road, Bridgwater, TA6 4HX
Wednesday 25th May:
1pm - 6pm
Hamp Pantry, Grenville House, Rhode Lane, Bridgwater, TA6

6JE
Thursday 26th May: 1pm - 6pm
Somerset West and Taunton
Minehead Community Hospital, Luttrell Way, Minehead, TA24 6DF
Every Tuesday: 8:30am - 7pm
Wellington Community Hospital, Bulford Lane, Wellington, TA21 8QQ
Tuesday & Thursday: 9am - 5pm
Wiveliscome Community Hall, West Street, Wiveliscombe, TA4 2JP
Wednesday 25th May: 2pm - 6pm
Tower Vaccination Centre: Tower Road, Taunton, TA1 4AF
Book a Children only for ages 5+:
*check
GAJ
for specific children's (5+) clinics & times
Appointments now open on NBS.
Exmoor Rural Health Hub, Moorland Hall, Wheddon Cross, Minehead, TA24 7DU
Wednesday 8th June:
9am -3pm
Blackbrook Surgery, Lisieux Way, Taunton, TA1 2LB
Friday 20th May: 8:30am - 1:30pm
Priorswood Community Centre, 13-14 Priorswood Place, Taunton, TA2 7JW
Sat 25th June: 12pm - 6pm
Mendip
Clarks Village (Alfred Gillet Trust Building) Outlet Shopping Village, Farm Road, Street, BA16 0BB
Tues 24th & 31st May: 9am - 5pm
Sunday 22nd May: 10am - 4pm
Frome Market, Standerwick, Frome, BA11 2QB
Wednesday 25th May: 10am - 2pm
Cheese & Grain, Market Yard, Justice Lane, Frome, BA11 1BE
Wednesday 25th May: 9am - 5pm
Thursday 2nd June: 9am - 5pm
South Somerset
Wincanton Hospital: Dancy Lane, Wincanton, BA9 9DQ
Mon 30th May and Wed 1st June:
*check
GAJ
for specific children's (5+) clinics & times.
Book a Children only for ages 5+:
Appointments now open on NBS.
Chard Leisure Centre, Fore Street, Chard, TA20 1GR
Wednesday 25th May: 9am - 5pm
Thursday 2nd June: 9am - 5pm
New Covid-19 Dashboard
As a result of recent changes to policy, the number of detected cases alone no longer provides an accurate or consistent indication of the prevalence of Covid-19 in our community.
As a result of this, detailed cases data such as the map and district level figures have been removed from our Dashboard. Cases are still shown on the chart, however, we have now included additional information (ONS Prevalence*) that may give a better indication of the actual number of people with COVID. Testing data has also been added to provide further context.


Additionally, the hospital admissions data now includes mechanical ventilation bed patients who are positive as a better indicator of serious illness being treated. The OPEL level on this page provides a snapshot of how the health and care system overall is managing.


The vaccination page now provides more overall strategic vision of how the vaccination programme has been implemented and provides an indication of the effective level of immunity provided to our community by boosters and third doses.


From next week onwards we will publish the dashboard to the website, on the second working day of each week only. The current version of the dashboard can be accessed at any time from this location: https://www.somerset.gov.uk/covid-19-dashboard/


*ONS Prevalence Survey estimates the proportion of people in Somerset testing positive based on a survey undertaken by the Office for National Statistics (ONS).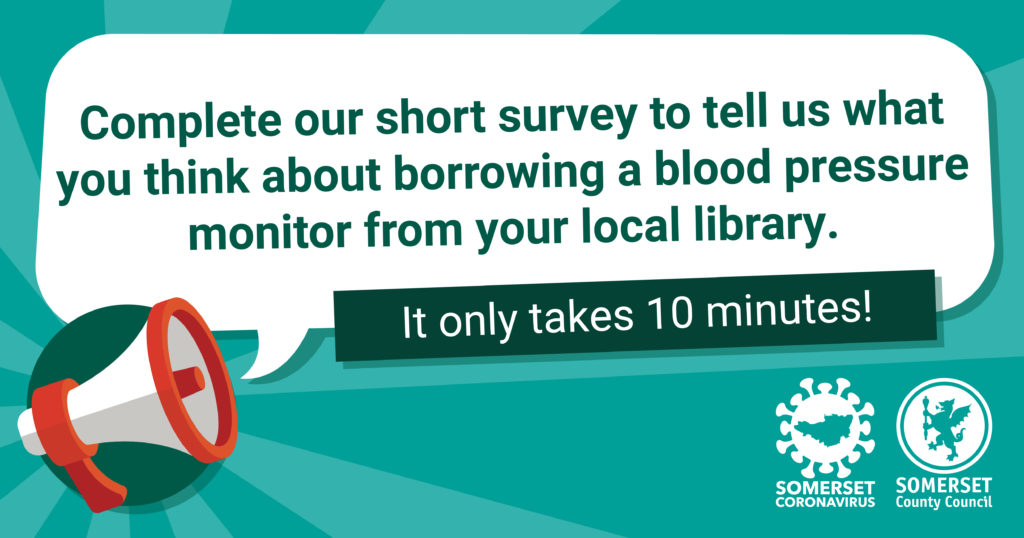 A new consultation is live which will help us inform the roll out of a scheme which gives residents the opportunity to loan a blood pressure monitor from their local library. This consultation is live until the 31st May and is open to all Somerset residents. Click here for more information Please share widely with your networks
Mental Health Training
As the Public Mental Health training offer has expanded, a need was identified to have information about the various courses available in one place. On the Healthy Somerset website you can find all the courses we are currently offering, including details of how to book.


New Community Food and Growing Grant
Somerset County Council (SCC) has set up Growing Grants to support community-led food projects that make healthier food affordable for everyone.
Groups can apply for a grant of between £500 and £5,000, which would need to be spent within 12 months. Requests are considered up to £10,000 to be spent over 24 months. For more information on how to apply please click the button below. This is a great opportunity for support with funding, please share widely with your networks.
Autopia
If you have/or think you have ADHD, Autism, Dyslexia, Dyspraxia, Dyscalculia, Dysgraphia, Tourette Syndrome or any other disability, then go along to Autopia and be part of a creative social session for neurodivergent people.
Open Story Tellers
OpenStoryTellers (OST) are looking for people with disabilities as part of research into a new film project. OST are keen to learn from peoples real life experiences, and need your help to understand and let others understand Disability Hate Crime.


Local Recruitment Event this month in Chard and Yeovil
The South Somerset Opportunities Hubs are co-hosting two free recruitment events on 24 and 25 May. The aim of the events is to support residents, who are currently unemployed, into work by offering services to help develop the skills and learning of individuals looking for a career change.
The Hubs offer free tailored support and are dedicated to recognising individual's digital and employment barriers, identifying skill gaps and improving these through training. The Recruitment events are free to attend and will host a number of local businesses actively recruiting in the surrounding areas.

Chard event - Tuesday 24 May - 10am to 2pm on the first floor of Chard Library
Yeovil event - Wednesday 25 May - 10am to 2pm Yeovil Baptist Church
There will be a dedicated quiet session from 10am -10.30am exclusively for those who are nervous in busy areas or have additional needs that would benefit from a slower pace and quieter environment. The event is open to walk-ins. For specific queries, please email; OpportunitiesHub@SouthSomerset.Gov.Uk
Vacancies
Spark Somerset are currently hiring for three exciting new roles! If you, or someone you know, is searching for a great new role in the voluntary sector, then look no further.
We want to hear from you
Your feedback is valuable to us and we'd like to receive more from you and your communities. Ideas on different ways to engage and issues you are spotting locally will help us to reduce barriers to accessing healthcare.
Local Helplines
If you require support please contact your local authority.
Mendip District council call 0300 303 8588
Sedgemoor District council call 0300 303 7800
South Somerset district council call 01935 462462
Somerset West and Taunton council call 0300 304 8000
Somerset County Council call 0300 123 22224

Resources and Further Information: